Welcome
Shiloh Counseling Services is a Christian counseling practice in Lubbock, Texas.
The Role of Christianity in our Counseling
All Shiloh therapists believe that God is the Wonderful Counselor and that HE and our clients are the primary agents of change. Each of us tries to adapt our spiritual resources to each client's chosen beliefs, values, and attitudes. We believe Jesus reached out to people to give them life, not to give them religion. We seek to do the same.
We believe it is vitally important not to violate clients by our Christian faith or by our therapeutic work in any way but to assist clients to make choices which will increase wellness over the entire course of life.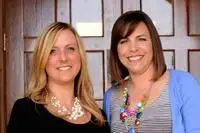 About Shiloh's Owners
Christina Truitt and Sarah McDowell are the co-owners of Shiloh Counseling Services. Both Christina and Sarah are Licensed Professional Counselor Supervisors.
Our Philosophy
Our philosophy at Shiloh is that God is seeking to love us into abundant joyful life. We seek to actively join Him in nurturing and challenging our clients to understand their true identity, and to maximize the choices that lead to fulfillment.